Milesight Comprehensive Surveillance System Assures the Maximum Security for the 1354 Apartments
Organization:
Sunwah Pearl Binh Thanh Apartment
Location:
Ho Chi Minh, Vietnam
Industry Segment:
Residential
Milesight Partner:
Intelligent Technology Services Joint Stock Company
Related Products:
213 pcs – 5MP H.265+ Vandal-proof Mini Bullet Network Camera


(MS-C5364-FPB)
127 pcs – 2MP H.265+ Vandal-proof Motorized Mini Dome Network Camera


(MS-C2973-PB)
14 pcs – 5MP 12X H.265+ Mini PTZ Bullet Network Camera


(MS-C5361-EPB)
8 pcs – 2MP 30X H.265+ Speed Dome Network Camera


(MS-C2941-X30RPB)
2 pcs – 12MP H.265+ Fisheye Network Camera


(MS-C9674-PB)
6 pcs – 4K H.265+ Pro NVR 8000 Series


(MS-N8064-UH)
1 pc – 4K H.265+ Pro NVR 7000 Series


(MS-N7032-UH)
Overview
At the luxury Sunwah Pearl Binh Thanh Apartment, Vietnam, 364 pcs of Milesight network cameras and 7 pcs of Milesight NVRs are installed in all its public areas to protect safety of residents and employees, creating a safe and comfortable living environment.
Background
Sunwah Pearl Apartment project is located in an excellent position at 90 Nguyen Huu Canh, Ho Chi Minh City. This project is considered a masterpiece of Sunwah Group, represented by the Sunwah brand associated with the image of a precious pearl in the splendid Saigon.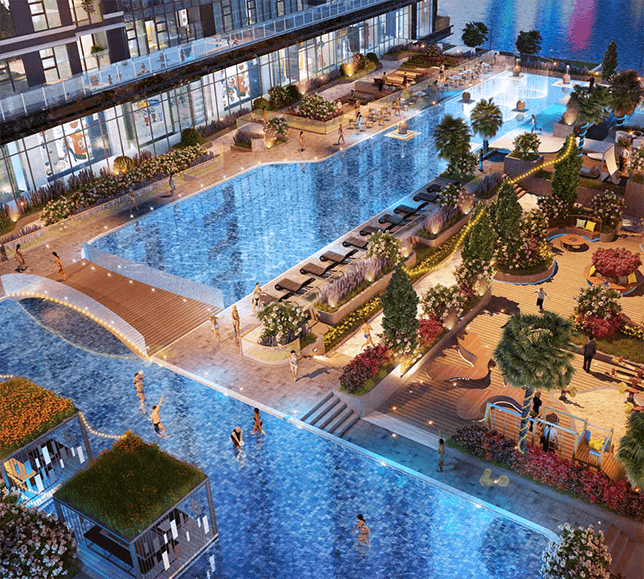 Challenges
As a high-class apartment in Vietnam, the safety of residents and employees is always the first concern in implementing a residential surveillance solution. Sunwah Pearl has a total of 1354 apartments, so how to minimize damage to the common areas of the building? How to reduce the likelihood of break-ins? How to prevent costly repairs that must be made in the event of vandalism or theft? Milesight surveillance solution has the answer.
Solution
Milesight provides a comprehensive solution of video surveillance to secure the apartment. The whole surveillance system is combined with different types of Milesight network cameras and a back-end management system. All devices are deployed across front gate, multiple floors, parking lot as well as management center. Let's take a tour!
Front Gate — PTZ Bullet&Speed Dome Camera, No Boundary of Distance
The Sunwah Pearl is covered an area of 19,000 meter square and surrounded by busy traffic and complex location. Milesight PTZ Bullet Camera and Speed Dome Camera are deployed in every direction outside the apartment. These cameras not only offer wide area coverage and all-round monitoring, but also allow the security guards to monitor distant subjects while still maintaining the clarity, delivering high quality video over the entire zoom range. It greatly deters suspicious activities and gives residents peace of mind.
Lobby&Hallway — Fisheye, Zero Blind Spots
Milesight 360° Panoramic Fisheye Network Camera is installed in both apartment lobby and corner of hallway. It is capable of shooting images with 12MP ultra high resolution and 360° surrounding view. The body design of the fisheye camera is perfectly matched with architectural space, protecting the residents and staff without being noticed.
Parking Lot — Types of Network Cameras, 24×7 All-around Protection
Parking lot is dim, while the starlight camera delivers high detailed color images even in the low light environments reaching 0.002Lux without any supplementary lighting. Featuring IK10-rated vandal-proof casing, Milesight cameras are able to withstand harsh vandalism, which provides 24×7 protection for vehicles and property of residents. Apart from features that mentioned above, LPR is also applied in Milesight Network Cameras. It effectively detects and captures license plate in real time. Embedded with Black and White list inside the cameras, it takes appropriate action such as generating an alert once the license plate is on the predefined blacklist.
Management Center — NVR&CMS, 24×7 All-round Protection
A total of 340 cameras are well managed by Milesight 4K Pro NVR 8000 Series. It provides up to 80TB storage capacity. Powerful decoding performance ensures consistent monitoring and recording. N+1 hot spare function prevents data loss from unexpected devices' errors. Additionally, CMS is a vital software system for building managers to check live view and playback through video wall at any time. If any accidents occur, they can quickly locate the premise and coordinate in response.
Video
Result
Milesight is much more of a super guardian, rather than just a security system. We use the comprehensive solution for the day-to-day management of our operation." Milesight surveillance solution has won high praise from the board of Sunwah Pearl Apartment.